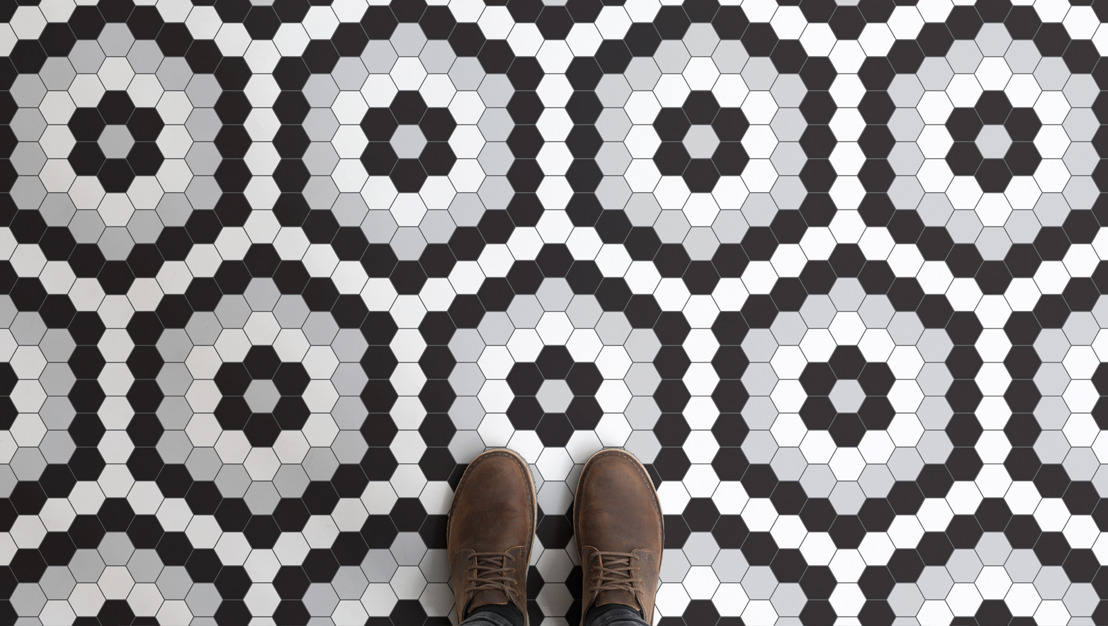 Atrafloor releases Mosaic Tiles collection
Atrafloor's latest collection explores a vinyl alternative to traditional mosaic tiles.
Mosaic tiles have long been a great way to liven up a room. By arranging coloured tiles in an eye-catching way, you can create an intricate pattern or shape. Usually made from marble, glass, porcelain or metal, mosaic tiles are extremely versatile. Atrafloor is now offering a vinyl alternative to mosaic tiles, with a mixture of traditional-yet-contemporary black and white patterns and trending sage and pink.
Focusing on detailed floral patterns and shapes, the Mosaic Tiles collection is an alternative to tiles. There are three designs in the range - each available in multiple colourways. Providence is a modern take on the trend with diamond shapes, available in white, black, and green. London has a delicate floral pattern - choose from green, black & white, pink or black. Finally, Maryland has a statement hexagonal pattern and can be purchased in pink or black & white.
Lauren Kavanagh, the designer of the collection, said:
"We wanted to give our customers a practical alternative to traditional mosaic tiles. By combining our vinyl floor with unique, digitally-drawn designs, we can offer them something they might not have considered before. The collection is perfect for hallways, bathrooms and kitchens. You can let the floors do the talking by pairing them with minimalistic, Scandi-inspired pieces."
Product Details:
London, Maryland and Providence are all available to purchase from the Atrafloor website: https://www.atrafloor.com/vinyl-flooring/faux/tile/
All flooring is made-to-order and priced at £59.00/$69.00 USD/€71.00 per square metre and is suitable for homes and commercial use.
For further information please contact [email protected]
Leila Jones PR Executive, Atrafloor