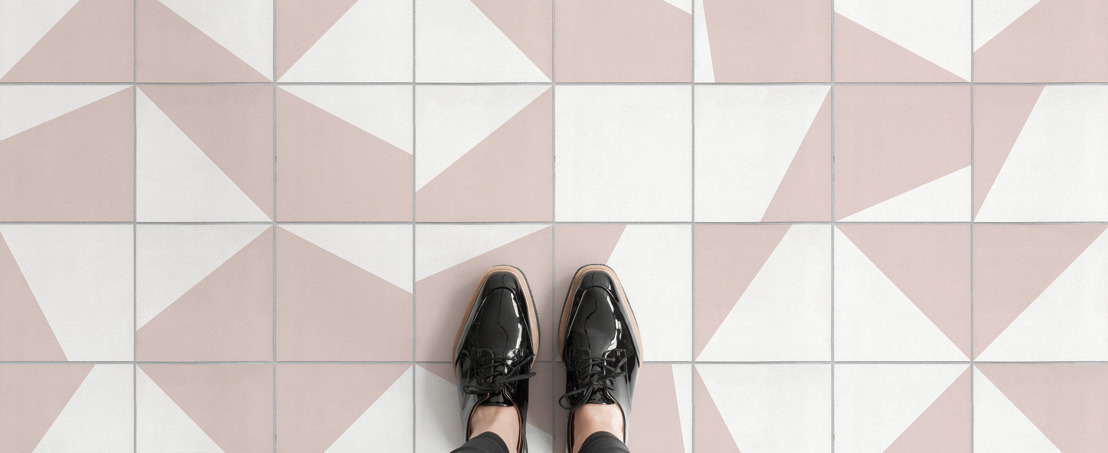 Creative coloured tiles are made easy with the Shifting Shapes collection
The new Shifting Shapes collection from Atrafloor features five flooring designs with a cement tile texture, decorated with eye-catching colour blocking.
The collection is made for the modern home, and has been created to offer a creative alternative to traditional tile floors. The vinyl designs bring something new and more unique to the world of flooring, making it easier to achieve a complex tile floor layout with their cement tile effect and stylish, strategically placed pops of colour.
Dipped white tiles arranged as imperfect compositions is the latest update in the ongoing trend of statement floors that stray away from the safe and simple, encouraging people to innovate in their interiors.
Vinyl flooring is less messy and less costly than investing in bespoke cement tiles, and can create a breath-taking impact with more design freedom. The new Atrafloor collection has been styled here in elegant, airy bathrooms, turning them into spa-like spaces and showing how dream bathroom decor can be achieved without the grout.
The soft pastel palettes woven throughout the Shifting Shapes designs cut and peek through the square and hexagonal tiles at abstract angles and in uniform patterns, resulting in a collection that puts a contemporary spin on tiled flooring. The blocking can also be customised with any requested colours, to ensure they suit the styling in any space.
Product Details
This design is available at: https://www.atrafloor.com/vinyl-flooring/faux/tile/
All flooring is made-to-order and priced at £59.00 /m2.
For further information please contact [email protected]
---

Anna Fell PR executive, Atrafloor