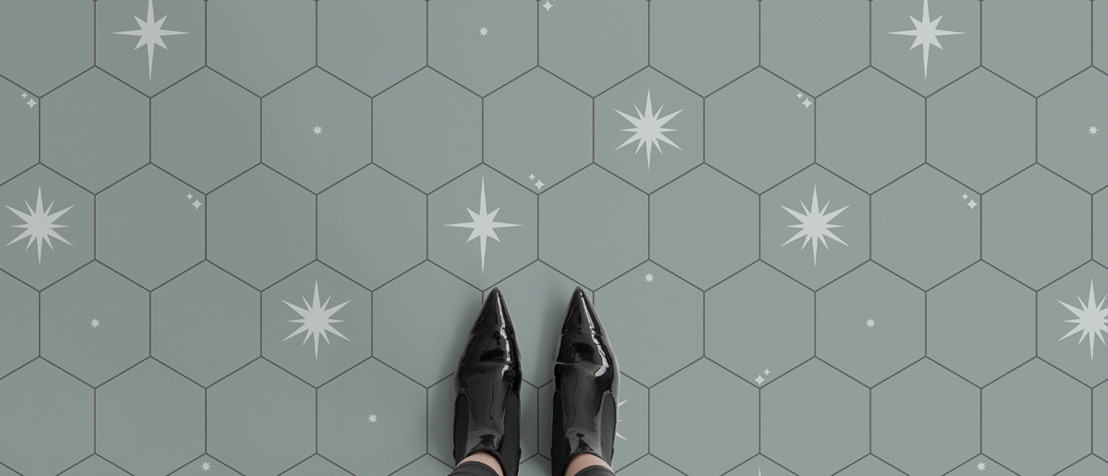 Take on the celestial flooring trend with Atrafloor's Night Sky Collection
Atrafloor's Night Sky collection marries the astral star aesthetic with the functionality of vinyl.
Celestial flooring has been a huge trend for a while now, with striking star patterns popular in kitchens, bathrooms and hallways, ideal for a vintage look. However, this type of flooring is usually only available in tiles.
Atrafloor has unveiled a brand new Night Sky collection, offering a practical vinyl alternative to tiles, without compromising on the stunning finish of the astral aesthetic. The range consists of three designs, each in two colourways - mixing a contemporary colour palette with the vintage star and moon patterns.
The designs themselves were inspired by the interior of Castell Coch, a 19th Century Gothic castle in Wales. The castle has an opulent Drawing Room, with awe-inspiring gilded ribs and a star encrusted ceiling.
Vinyl flooring is a hardwearing alternative to tiles, and this new collection is the first of its kind to offer the popular astral star pattern. The contemporary colours, including mustard yellow, bottle green and soft pink, are a fun spin on the traditionally monochromatic patterns.
Tori Dennett, the designer of the collection, said:
"The Night Sky collection is a unique alternative to tiles. With a striking star pattern, created digitally, the products are a modern way to bring this traditionally vintage style into your home, as a statement piece for the hallway or for a bold bathroom look."
Product Details:
Products are available to buy from: ​ https://www.atrafloor.com/vinyl-flooring/faux/tile/
All flooring is made-to-order and priced at £59.00 per square metre.
For further information please contact [email protected]
Leila Jones PR Executive, Atrafloor